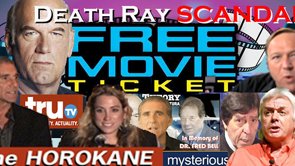 The DEATH RAY SCANDAL Jesse Ventura
NOTE: PUBLICATION OF THIS VIDEO IS PROTECTED BY "FAIR USAGE" LAWS. BLOCKING IS PROHIBITED IN SERVICE TO PUBLIC EDUCATION, MEDIA ANALYSIS, AND NEWS COMMENTARY.
TruTV's "Conspiracy Theory" Exploits Mysterious Death of "Star Wars" Scientist:
Dr. Fred Bell Memorial Film Examines Celebrities Jesse Ventura, Alex Jones, and David Icke as Leading Propagandists for the CIA/FBI's Mass Media Social Control Operation Called "COINTELPRO."
Award-winning filmmaker Dr. Leonard Horowitz investigates the shocking exploitation of a Star Wars scientist's mysterious death in this documentary about "Conspiracy Theory" propaganda for commercializing global agendas for population control.
Dr. Fred Bell's suspected murder occurred 48-hours after he disclosed his CIA connections to Minnesota ex-governor, Jesse Ventura, the host of TruTV's "Conspiracy Theory" program. The interview followed Horowitz referral of Bell, a friend and colleague, to the show's producers who sought to interview experts in energy weaponry.
The resulting TruTV "Death Ray Segment" focused on energy weapons of mass destruction and CIA assassinations using technologies that Bell had allegedly helped to develop while working for NASA.
Horowitz's documentary raises the question of the network's complicity in Bell's mysterious death, and exposes the intelligence agency's use of fear, and media celebrities that generate frights, in propaganda used for social control and helping to advance the commercial interests of multi-national corporations. Included here is Rupert Murdoch's News Corp. and Time-Warner's acquisition, Turner Broadcasting Company, with Los Angeles producer Michael Braverman at the helm of this production.
Several "Conspiracy Theory" shows are scrutinized in Horowitz's film, especially the "Death Ray Segment" that was heavily edited to feature Dr. Bell's suspected murder, to sustain the secrecy surrounding "free energy," the energy weapons industry, and conceal the use of frequencies of sound and light to benefit, rather than destroy, life on earth, according to Horowitz's analysis.
Additional commentaries are added by investigative journalist Sherri Kane, a seasoned COINTELPRO whistleblower whose work unveiling "Conspiracy Industry" agents and deceptions is unsurpassed.
Kane and Horowitz, dubbed "The HOROKANE" by their critics in counter-intelligence, received early alerts about Dr. Bell's death, and helped family members and friends gather donations for proper funeral services in the wake of the scientist's body being left, most outrageously, at the morgue by Dr. Bell's "fiancee" who allegedly fled the scene of the suspected poisoning.
Evidence for Horowitz's thesis comes persuasively from the many mistakes made by Braverman and Ventura's co-producers, obvious staging of events that never took place, "fiancee" Mikelle Williams's specious unsubstantiated testimony broadcast on the show, and the specific list of subjects provided as economic substitutes for war found in the 1967 leaked publication of the Report From Iron Mountain, a globalist think tank, precisely reflected in the "Conspiracy Theory" program schedule.
The Death Ray Scandal features complicit celebrities Alex Jones and David Icke, at the forefront of waging an "information war" consistent with the recommendations in Iron Mountain report.
Horowitz's documentary analyzes the hype (i.e., propaganda) that now has the producers of TruTV's "Conspiracy Theory" series embroiled in a scandal of suspected murder for ratings, earnings, and social programming, that is, "population management."
This documentary, the Death Ray Scandal, is freely broadcasting on "Revolution Television," Dr. Horowitz's Vimeo channel. The film was produced for non-profit public education in cooperation with Medical Veritas International, an organization making fair usage of network broadcasters' productions as a public service, providing news and social commentary to secure people's health and safety.
Viewers are encouraged to make and spread copies of the Death Ray Scandal documentary to friends and loved ones to affect positive social change through heightened media awareness.
-End-
NOTE TO JOURNALISTS: For interviews with Dr. Horowitz and Ms. Kane, please contact Sean McDemott at 310-877-3002, or e-mail: editor@medicalveritas.org.
If you appreciate this work, please help support Dr. Horowitz and Sherri Kane, by donating to the tip jar.