REVOLUTIONTELEVISION.net is the home of REVOLUTION TELEVISION, broadcasting the most informative and censored segments on the Internet.
Here are our latest and most popular productions on the "COVID Coup."

Prophetic Scientific Intelligence
RevolutionTelevision.net- Media Completely Uncensored by Big Pharma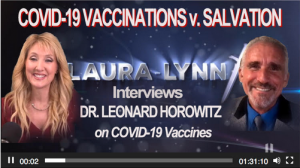 Dr. Leonard Horowitz and Sherri Kane (a.k.a., "The HOROKANE") have been at the forefront of exposing the world's worst villains, including the "shadow governors" and "Militant Media" advancing terrorism, multi-national corporate fascism, and assorted crimes against humanity.
Ms. Kane's death on January 7, 2021 was brought on by "malicious manslaughter" according to a police report and complaint submitted by Dr. Horowitz to the Justice Department's Inspector General.
Dr. Horowitz and Ms. Kane were also on the front lines in the spiritual battle between good and evil, advancing the "528 LOVERevolution" featuring "medicinal music" made in the frequency of 528Hz–the sound at the heart of nature–ideal for natural healing.
Both journalists were victimized by the "systemic injustice" about which many simply close their eyes and silence voices of opposition and life-saving activism. Yet, The HOROKANE have been sustained and applauded by many supporters worldwide who have kept these activists in their prayers, including Ms. Kane now 'on the other side.'
Meanwhile, Dr. Horowitz keeps outputting articles, books, videos and films, such as seen here on RevolutionTelevision.net, thereby keeping "We The People" informed.
Visit JudicialCorruptionNews.com, MedicalVeritas.org and WarOnWeThePeople.com to read Dr. Horowitz's latest reports on corruption in health science and politics; and view 528Revolution.com to consider the doctor's prescriptions for curing the "world gone mad." Together, he optimistically argues, "We can co-create peace, sustainability, and optimal prosperity, by bringing the satanically-possessed criminal-psychopaths damaging everyone (including themselves) to justice."
Visit 528Revolution.com and FrequencyRehab.com, to learn more about the solutions Dr. Horowitz recommends. And listen to the music on 528Radio.com to gain 'frequency therapy' and 'vibrational-protection' against evil dissonance broadcasting globally now via 5G.